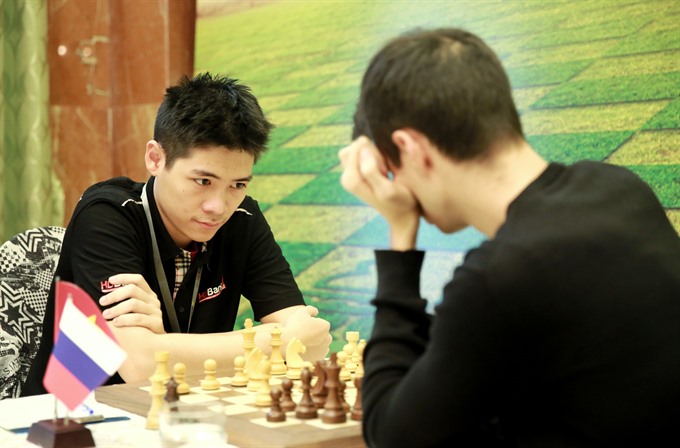 Lê Tuấn Minh of Việt Nam (left) tops the HDBank Chess Open after sixth round. — Photo of organisers
Viet Nam News
HÀ NỘI — International Master (IM) Lê Tuấn Minh made a big bang at the HDBank International Chess Open Tournament's sixth-round match of the masters pool in Hà Nội yesterday.
The 22-year-old master (Elo 2,489) defeated Grandmaster (GM) Gordievsky Dmitry of Russia (Elo 2,630) to replace his rival at the top position.
Hanoian Minh, who is seeded No. 22, was considered an underdog compared with No 5 seed Dmitry, as his elo rating was nearly 200 points lower than the Russian, who won all his games ahead of their meet.
However, Minh took full advantage of having the white pieces and played carefully. He forced Dmitry to surrender after 54 moves.
Minh has 5.5 points after six matches and is one of the three players who have not lost yet. Two others are No 2 seed GM Wang Hao of China and No 4 seed GM Mareco Sandro of Argentina.
In the next match, Minh will play Wang.
Tournament No 1 and defending champion Lê Quang Liêm was unexpectedly tied in a draw for the third time yesterday by Indian FIDE Master Erigaisi Arjun, who is the No 30 seed.
With 4.5 points, Liêm ranks seventh and will face Russian GM Ivan Rozum today.
Former champion Nguyễn Ngọc Trường Sơn joined the top 10 after beating teammate IM Nguyễn Văn Huy in the sixth game.
GM Sơn has 4.5 points and is placed sixth. His next rival will be IM Nguyễn Anh Khôi, who is at No 11 currently.
In the challengers pool, Ocido Michael of the Philippines maintained the lead with 5.5 points. Vietnamese FM Vương Trung Hiếu and Nguyễn Đình Trung are second and third, respectively. — VNS
Nguồn: vietnamnews.vn