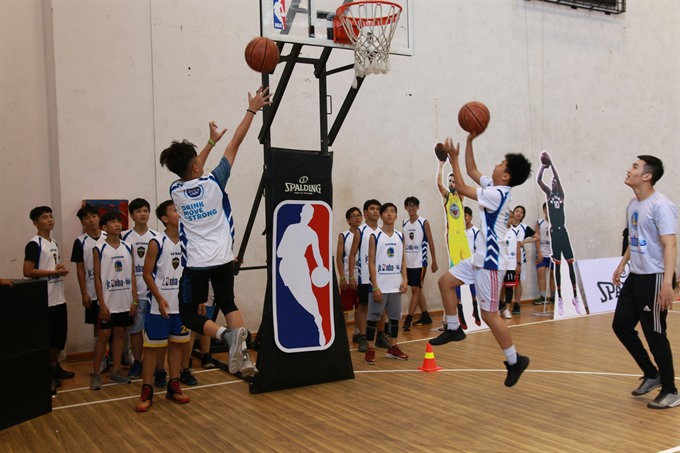 Jr NBA, the US National Basketball Association's global basketball development programme for boys and girls, is expected to reach more than 8,000 boys and girls in Việt Nam. Photo Courtesy of FrieslandCampina Vietnam
Viet Nam News
HCM CITY — Jr NBA, the US National Basketball Association (NBA)'s global basketball development programme for boys and girls, has returned to Việt Nam for a fifth consecutive year.
The programme, which includes stops in Hà Nội and HCM City, is expected to reach more than 8,000 boys and girls in more than 200 schools there.
Dutch Lady, one of the brands of FrieslandCampina Vietnam, is the presenting partner.
"The Jr NBA programme promotes healthy lifestyles through sports from an early stage," FrieslandCampina Vietnam managing director Arnoud van den Berg said.
NBA Asia's vice president, global marketing partnerships, Francesco Suarez, said, "Basketball has experienced incredible growth in Việt Nam since the launch of the Jr NBA in 2014.
"With the return of the programme for the fifth consecutive year, we are investing more than ever in youth development to get even more Vietnamese kids active and healthy through sport and create a lasting positive impact on their lives."
The programme began on March 11 with an open clinic for boys and girls and a coaches' clinic at the Hồ Xuân Hương Stadium in HCM City, and will run through June.
There will be a series of school clinics followed by the first selection camp in Hà Nội on March 31 and a second in HCM City on April 14 from which the top 32 boys and girls each will be selected for the Jr. NBA National Training Camp in the latter city from June 22 to 24.
The camp will again be attended by a current player or NBA legend.
It will culminate with eight boys and eight girls being named the 2018 Jr. NBA Vietnam All-Stars.
They will embark on a unique overseas NBA experience together with fellow Jr. NBA All-Stars from Southeast Asia later in the year.
Last year's Jr. NBA All-Stars from Southeast Asia convened in Shanghai, China, and attended the 2017 NBA China Games, a live NBA game featuring the 2017 NBA Champions, the Golden State Warriors, and the Minnesota Timberwolves.
Participants are trained in the fundamentals of basketball and learn about the importance of proper nutrition as well as the Jr. NBA's core values of sportsmanship, teamwork, a positive attitude, and respect.
The event is also supported by local basketball federations, the US consulate general in HCM City and embassy in Hà Nội.
As part of the NBA's continued commitment to providing youth in Asia with increased access to play the game, the NBA has restored a basketball court at the University of Medicine and Pharmacy at HCM City.
The community initiative was announced on March 11 to celebrate the completion of the first refurbished court in Việt Nam.
During the 2017-18 season the NBA will reach more than 26 million youth in 71 countries through a variety of camps, clinics, skill challenges, league play, and outreach events.
Registration for the coaches' clinic, open clinics and selection camp is available now through the official event website, www.jrnba.asia/vietnam. — VNS
Nguồn: vietnamnews.vn